Making Content More Creative
From the 2023 IGNITE Workbook: This week I pose the question "what is content marketing?". I provide an answer from industry sources that state content marketing can take many forms.
"What is Content Marketing? While we talk about content marketing as one overarching concept, it can take many forms depending on what is appropriate for your audience. It is any type of custom-created content that extends the promotion of your brand, but it is not solely promotional in nature. Some examples include: • Articles • White papers • Ebooks • Podcasts • Videos • Photos" [1]
While this paragraph covers alot of ground, I'd like to focus on one salient example of what was one called "Advertorial" to showcase what uncreative, inffective content marketing actually is.
Advertorials are essentially magazine-style brochures that provide an "in-depth" look at a company's product. Publishers love them, but people generally ignore them because they lack credibility. The modern-day equivalents of advertorials are "native advertising" and "brand journalism." Generally, brands are better off not trying to blur the line between objective journalism and advertising.
Content marketing is anything that is neither an ad nor editorial. [2] It If you think of content marketing within this expansive context then you realize you have a really wide latitude to make it great. So "what is good content marketing?" I'd like to answer that with an example of the brand I have been using as the touchstone for this course — LeClair. Here are three examples using their Instagam feed.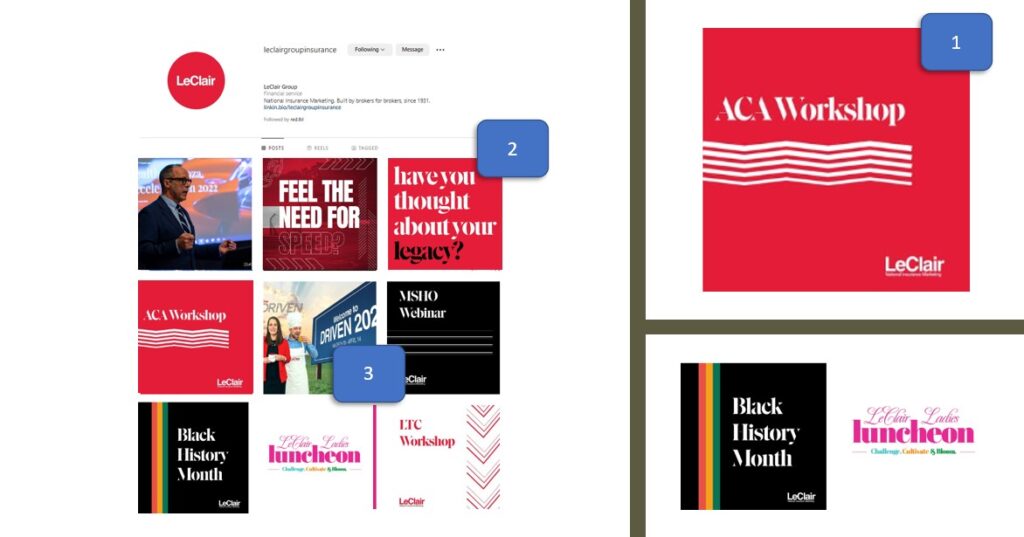 Point 1:
The first content bucket for LeClair is the information they have to distribute for the 25+ live events they conduct throughout the business year. Previously that had been using the "tombstone" format to inform audiences about these events across the omnichannel spectrum. The basic problem was that no one could read all the copy about the event and never understood that it was, actually, an event.
Redlbl changed this approach by creating simple "matchbook" images with a single headline and then putting the information about the event in the body of the post. Attendance has increased substantially.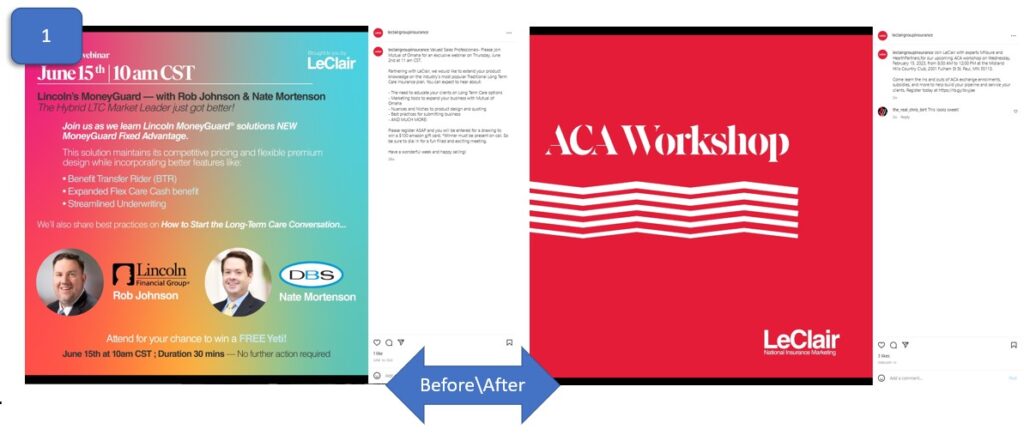 Point 2:
The second content bucket for LeClair is an ample stable of planning tools and consulting products designed to help insurance agents sell their businesses. LeClair was using content for this that conflated retirement planning with succession planning — notice the images used previously.
Redlbl cleaned things up by using the same simple format as depicted in slide one — to get right to the point about the content and conversations agents needed to digest.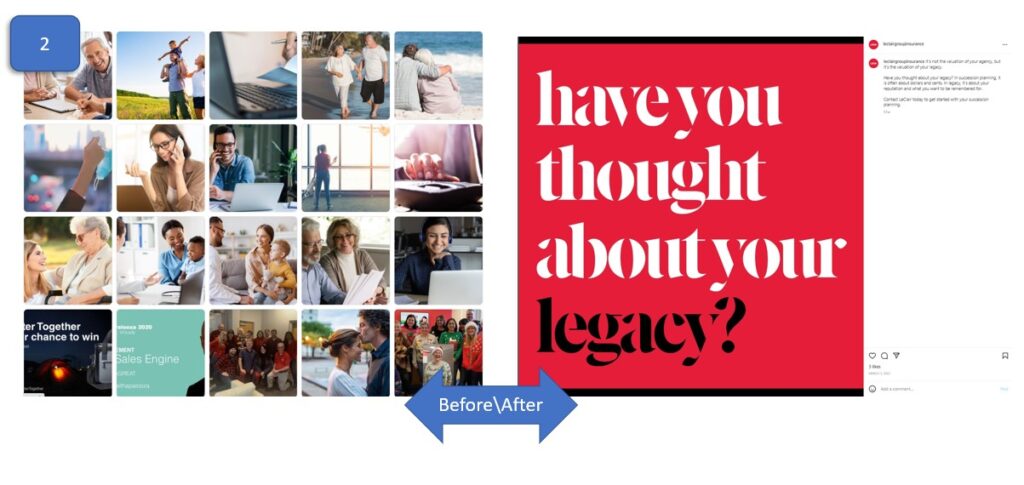 Point 3:
LeClair's last bucket of content relates to "roadshows" that they conduct as "listening sessions" with insurance agents. During these month-long shows agents can pick up free continuing education credits and have their issues with the industry heard. LeClair had a good name for the roadshow but was leading with that name alone.
Redlbl changed the content for the Roadshow to lead with the benefits of the show and included some key presenters depicted with some of the benefits the agents will gain from attending the shows.